Most people try to avoid mosquito bites. In Germany, the reason for this is usually that people dread the annoying itch that a mosquito bite can cause. In other regions of the world, the main motivation is another: avoiding infection with pathogens that are transmitted via mosquitoes. These include malaria, the Zika virus or the Chikungunya virus. The question arises whether these pathogens could also become a health problem in Germany due to the advancing climate change. The fourth part of the workshop series "Climate Change and Zoonoses" of the German Research Platform for Zoonoses and the Academy of Public Health in Düsseldorf was therefore dedicated to new challenges posed by mosquito-borne pathogens in Germany.
Sensitivity, Specificity and Validations - the Challenges of Diagnostics
Prof. Dr. Jan Felix Drexler, head of the viral epidemiology group at the Institute of Virology of the Charité - Universitätsmedizin Berlin, led into the topic. In his talk, he discussed the diagnostics and epidemiology of mosquito-borne viral diseases. It quickly became clear that diagnostics pose a number of challenges. On the one hand, this concerns the sensitivity of the detection methods. For example, the sensitivity can be reduced for flaviviruses, to which many mosquito-borne pathogens belong, due to the high flexibility in the genetic material, the RNA. But the specificity of detection methods can also become a challenge. In particular, when cross-reactions between closely related pathogens occur in antibody detection methods. Sufficient validation of the methods used is therefore essential for good diagnostics. Further challenges can be similar disease symptoms, viral loads below the detection limit of a method and narrow time windows for detection (short viremia). In these cases, serology plays an important role in obtaining meaningful results. Regardless of the methodology, the basic requirement for meaningful results is an understanding of when which method is appropriate for detecting or excluding a particular infection. Only in this way can valid data on the occurrence of a pathogen be generated, which can serve as a basis for decisions by the public health service.
Whether a pathogen occurs in a certain region plays a major role in diagnostics, because in most cases you only find what you are looking for. If a patient's medical history shows that he or she has been in the endemic area of a pathogen, it is more likely that he or she will also be tested for it, and vice versa. But to what extent does climate change alter the edemic areas of pathogens? Dr. Renke Lühken, head of the research group "Arbovirus Ecology" at the Bernhard Nocht Institute for Tropical Medicine, addressed this question in his talk.
Climate, pathogens, vectors and hosts - a complex interplay
Dr. Lühken clarified that it is not trivial to establish a direct causality between climate change and the occurrence of vector-borne pathogens, as climate change influences many factors (see Fig. 1). There is a tendency for higher temperatures to favor the spread of these pathogens. This is evident, for example, for the West Nile virus. In the case of this virus, higher temperatures shorten the extrinsic incubation period and thus favor the circulation of the virus. In the case of Chikungunya virus, however, laboratory studies with the mosquito Aedes albopictus have shown that the transmission rate of the virus through the vector is better at lower temperatures (18 °C) than at higher temperatures. It is undisputed that climate change influences many factors that alter the long-term distribution of vectors, host populations, and pathogens.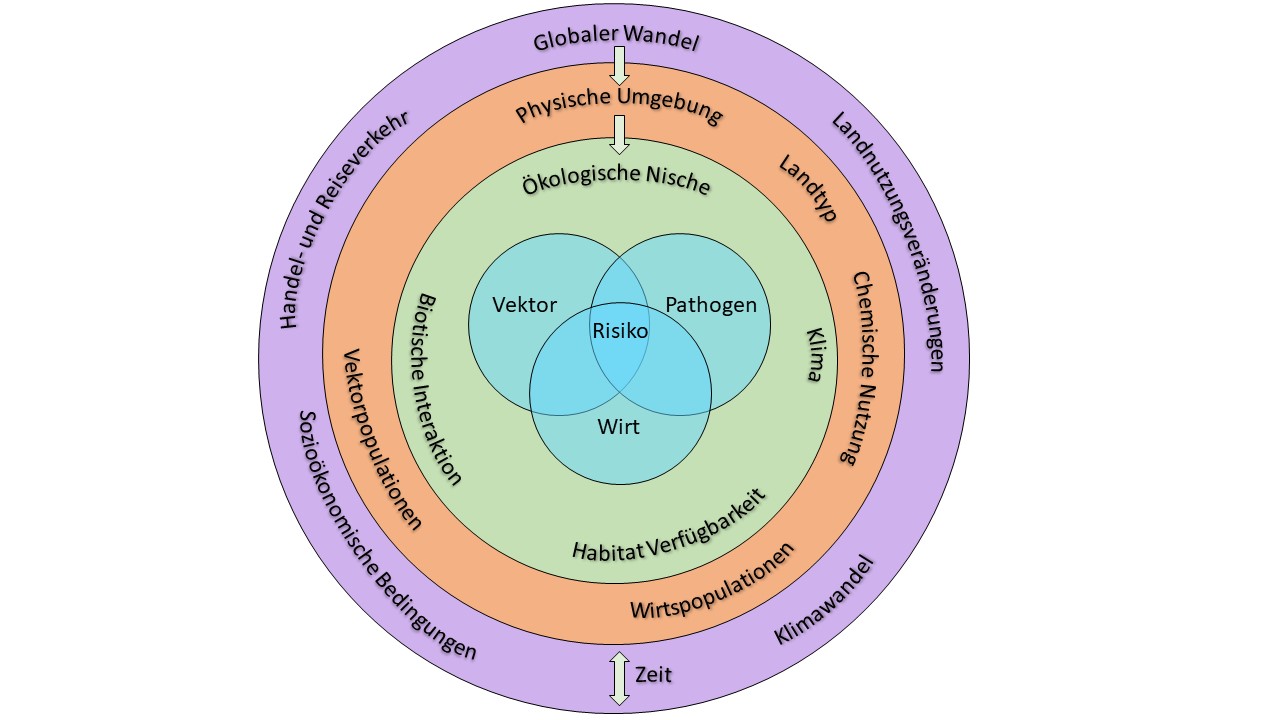 Figure 1: The multifactorial influence of climate change on mosquito-borne pathogens. Adapted from Franklinos et al, The effect of global change on mosquito-borne disease, The Lancet Infectious Diseases, Volume 19, Issue 9, 2019, doi: 10.1016/S1473-3099(19)30161-6
Mosquito bites as a health risk
Climate change induced changes in the endemic areas of mosquito-borne pathogens is highly relevant for the health care system in Germany. Dr. Micha Löbermann from the Department of Tropical Medicine and Infectious Diseases at the University of Rostock discussed the extent to which travel medicine advice can be used as a preventive measure and what treatment options are available against mosquito-borne pathogens. He emphasized the importance of exposure prophylaxis and mosquito protection (see Fig. 2).
Fig. 2: Infographic on how to avoid mosquito bites; source: U.S. Centers for Diseases Control and Prevention
Dr. Löbermann named the Zika virus, the Chikungunya virus and the Dengue virus as relevant arboviruses (viruses transmitted by arthropods) with which one can become infected while traveling. Vaccines are currently only available for some mosquito-borne pathogens, such as yellow fever virus or for selected groups of people against Japan B encephalitis virus and dengue virus. Thus, education remains an important medical tool to sensitize individuals to the dangers of mosquito bites. This is especially true in light of climate change, which could once again make mosquito bites a real health risk in Germany.
A summary of the workshop contents is also available for listening in the podcast episode on the workshop, in which Dr. Renke Lühken and Dr. Micha Löbermannn were guests. To the podcast
Text: Dr. Dana A. Thal, German Research Platform for Zoonoses