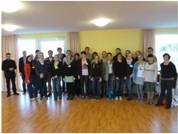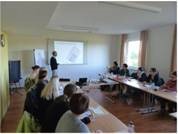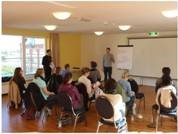 As part of its promotion of young scientists, the National Research Platform for Zoonoses offered a summer school for all PhD students working in the field of German zoonoses research. The two parallel sessions "Scientific Writing" and "Presenting Science" were held in Berlin from 16-18 September 2013. A total of 26 young scientists from various German universities, university hospitals and federal research institutions took part.

In the "Scientific Writing" session, the preparation, structure and development of a scientific concept and the use of appropriate formulations were discussed. Furthermore, the participants dealt with optimization strategies with regard to correct literature research. The professional background of the trainer as a scientific writer ensured that the exercise texts were up-to-date and practical.

The second session "Presenting Science" imparted the most important "soft skills" necessary for successful scientific presentations, especially in practical exercises. Among other things, the trainers placed great emphasis on correct body language, speaking style and volume. Finally, all participants* presented a scientific lecture prepared by them in advance. This was recorded on video and then jointly evaluated. This was intended to train, among other things, the ability to give constructive criticism and how to deal with it.

In order to promote networking among the young scientists, joint dinners were held again this year. These were used by all for casual conversation and the establishment of new contacts. These could be deepened at the National Symposium on Zoonoses Research, which followed immediately afterwards.